Editorial Note: Commissions may be earned from partner links on A4 Auto Transport, but this will not affect our editor's opinions or assessments. Our content is based on hours of research and industry experience to help end-users.
Last Updated on January 13, 2023 by a4autotransport
It's a common misconception that used cars come from dealerships and private sellers, but most dealerships buy used vehicles from car auctions. The majority of dealerships that sell relatively new cars for good prices are buying them from large auction houses that specialize in connecting dealers with these vehicles.
Some sites can even be dangerous. Therefore, proceed cautiously and KNOW where you'll be buying a used car or salvage vehicle.
In this article, we will discuss what types of vehicles we can buy from an online car auction, as well as 7 of the best online car auction sites.
What kind of vehicles can be found on online car auctions?
Most online car auction sites offer many types of vehicles, such as salvage cars, trade-in cars, repossessed vehicles, and totaled cars.
Remember: Be sure to consider your budget before bidding. Know the vehicle's value, the site's minimum bid policies, and any associated fees.
7 Best Online Car Auctions Sites in the USA
1. Acv Auctions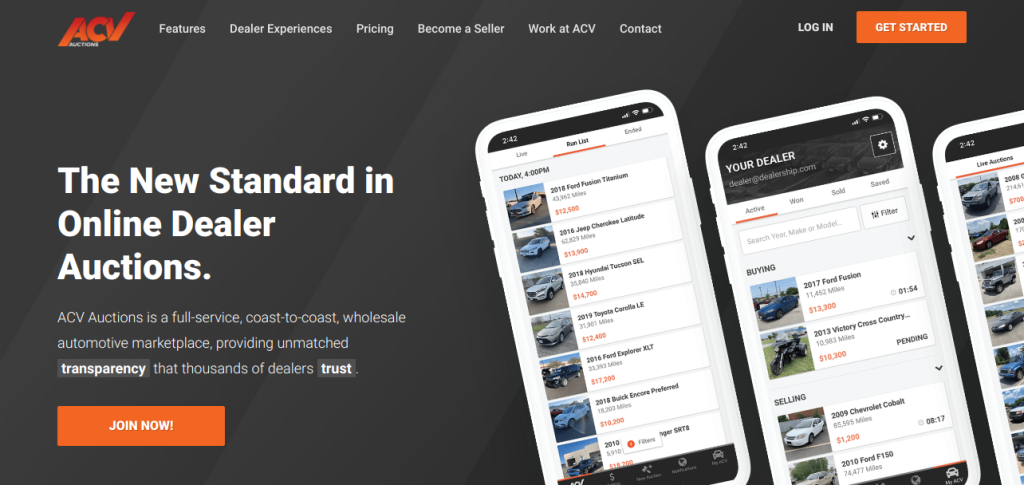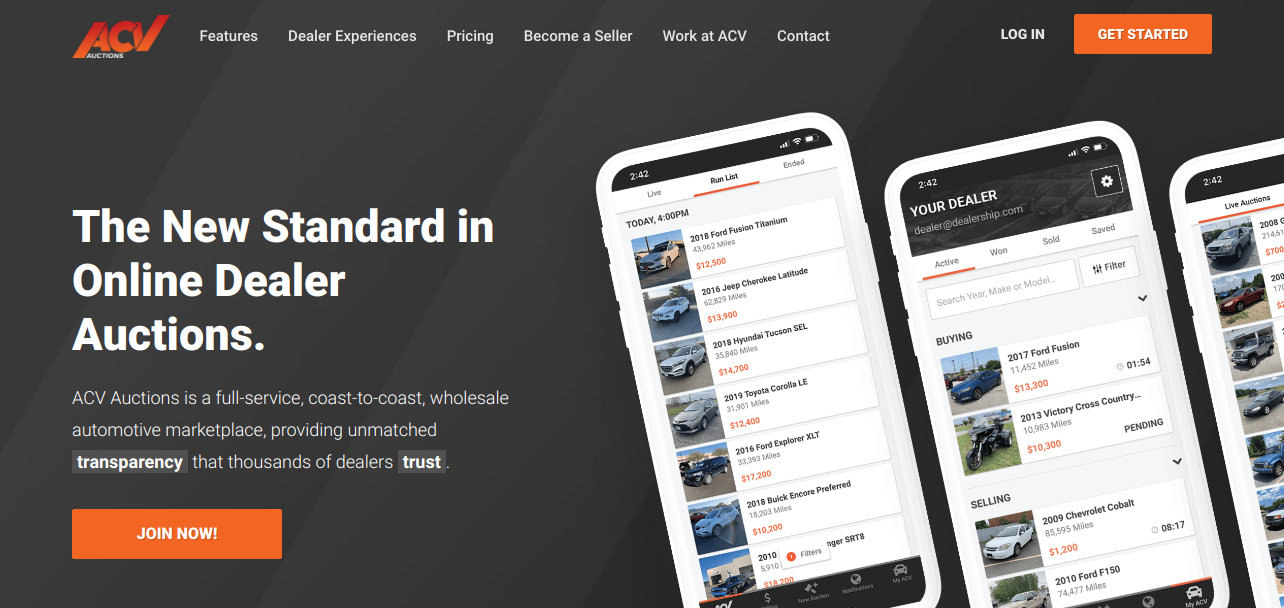 Acv Auctions is the leading digital wholesale vehicle marketplace in the United States, bringing unparalleled transparency and trust to the buying and selling of used cars, trucks, and SUVs.
ACV Auctions is a free online car auction site that you should check out if you're looking for a free online car auction site. This company uses industry-leading vehicle condition reports, so you'll know everything there is to know about the vehicles you're looking at.
ACV Auctions' vehicle auctions last only 20 minutes and provide you with access to thousands of car dealers. One disadvantage of online car auctions, as previously stated, is that you cannot inspect the vehicle in person.
ACV Auctions is aware of this issue, which is why the Audio Motor Profile was created (AMP). You can listen to high-definition audio recordings of the cars' engines with this feature, giving you an unrivaled inside look at your potential auction purchase.
ACV Auctions offers free registration and low buy fees. You'll also have peace of mind knowing that their transaction platform is secure.
The ACV Auctions app makes it easy to transfer car titles. The company offers free sign-up and low buy fees. Their secure transaction platform will also give you peace of mind.
2. eBay Motors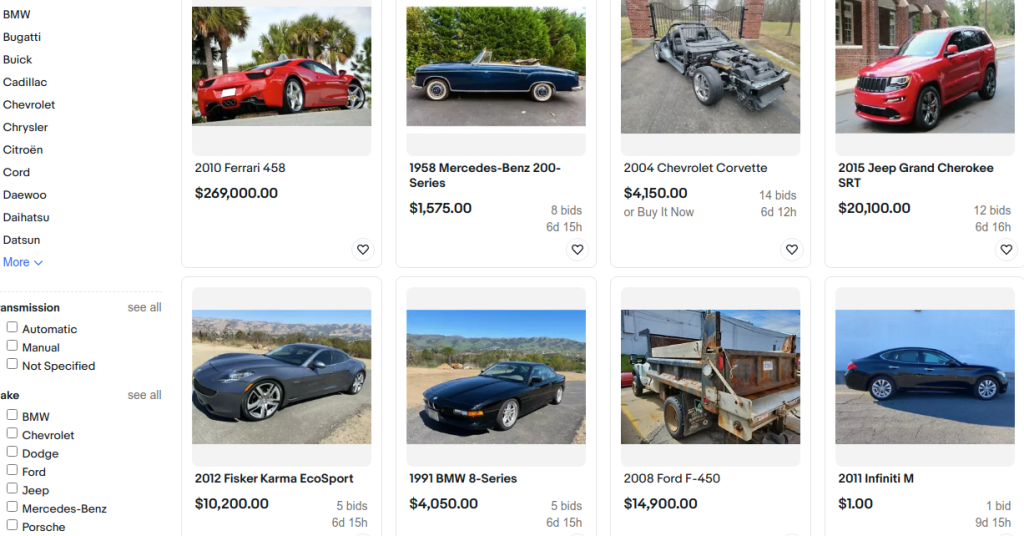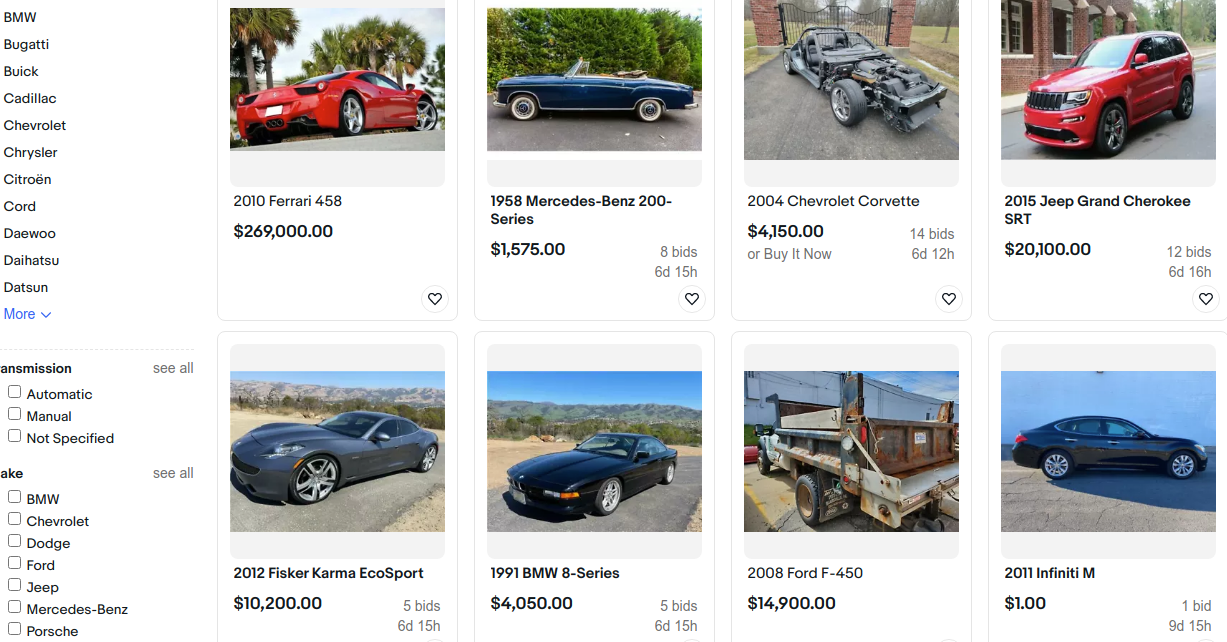 On eBay Motors, you can buy new and used cars and parts for fixing, updating, and maintaining your existing car. The site provides a straightforward way to browse through vehicles, categories of products, events, and brands of cars, motorcycles, pickup trucks, and SUVs.
To bid on a vehicle, you can simply visit eBay Motors, find the car of your choice, and then bid on it. The rules for bidding on eBay Motors are the same as those for traditional eBay, and there is no auction fee.
3. Copart Auto Auctions


Copart Auto Auctions is one of the world's largest car auction houses, offering services in 11 countries. The site sells over 3 million vehicles a year, so it's reputable.
Copart is the online auction site to use if you're looking for non-repairable, clean title, and salvage cars. Cars, trucks, classic cars, motorcycles, industrial vehicles, and more are available on this site. It's the way to go if you're looking for a reputable auto auction site that will deliver exactly what it promises.
The great thing about Copart is that there are no minimum bids or reserves, so you can only bid what you're comfortable with. Furthermore, they have a mobile app that allows you to place bids from anywhere.
Another great feature you'll get is pre-bidding, which means you won't have to wait for the auction to start to place a bid; you can do it ahead of time. Remember that you must have a full dealer's license to participate in Copart's auctions.
Bid what you feel comfortable with, as there are no minimums or reserves. In addition, they offer a mobile app that allows you to place bids on the go. Furthermore, you can place a bid before the auction begins, so you don't have to wait until the auction starts.
4. Auto Auction Mall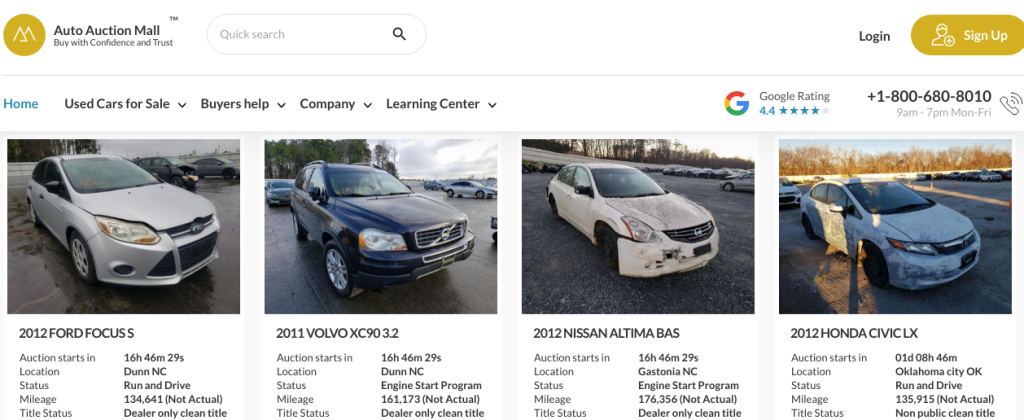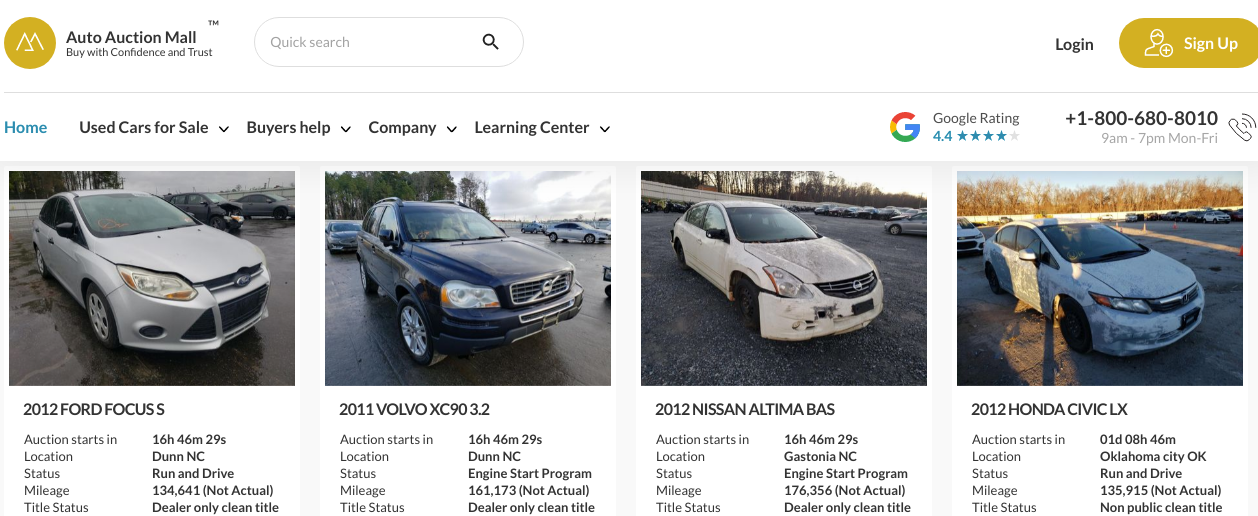 Auto Auction Mall is a one-stop shop with an impressive array of vehicle options. This is the LEGENDARY database for salvage, pre-owned, and used cars.
Auto Auction Mall is a dealer-only auction site where non-dealership licensees can bid on vehicles. This online auction site is a veritable gold mine, with a large selection of salvage vehicles, as well as used and pre-owned vehicles. They have over 200,000 live auctions going on at any given time.
While membership is free, you will be required to pay a $299 fee if you win a car. This is a one-time payment that grants you exclusive access to dealer-only vehicle auctions.
What sets Auto Auction Mall apart is that they provide a variety of auto financing options to help you get the vehicle you want and need.
Some of the car financings deals they advertise, for example, require no down payment and have extremely low-interest rates. You can even pre-qualify for auto financing without affecting your credit score!
If you ever need assistance during the bidding process, you'll be happy to know that Auto Auction Mall has a customer support team on hand to help you out.
5. Auto Bid Master


With AutoBidMaster's online auto auctions, the general public and businesses can buy a wide range of repairable cars, trucks, and SUVs at very affordable prices.
AutoBidMaster is actually a registered Copart broker. That means that when you join AutoBidMaster, you'll also have access to Copart's inventory! There's nothing to lose by signing up for this vehicle auction site because it's free.
AutoBidMaster, like many other online auction sites, offers repairable salvage vehicles as well as used cars at very low prices. Without a dealer's license, you can browse their inventory of over 162,000 vehicles.
This company is committed to updating its inventory on a daily and weekly basis, so you'll almost certainly find new vehicles whenever you log on. You never know what you'll find, as they occasionally stock motorcycles and quad bikes.
The company's experts can assist you during the entire car-buying process in English, Spanish, Russian, Arabic, and French regardless of whether you are buying a vehicle for personal or professional use.
Whether you want to purchase or sell a car at an auction site is up to you. Your car will need to be transported to or from your home by someone who is familiar with your requirements. To satisfy your demands, have a look at these 5 top car shipping companies.
6. Capital Auto Auction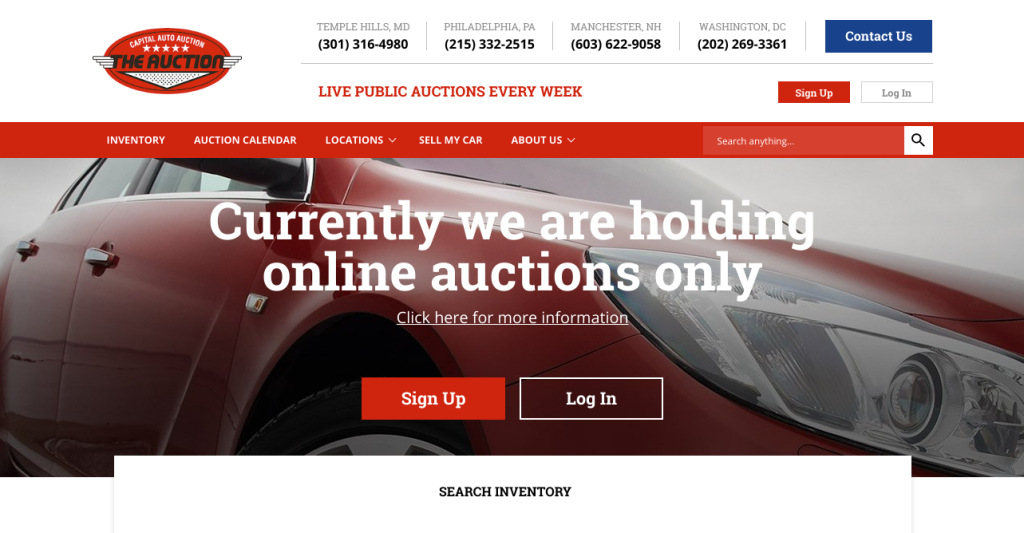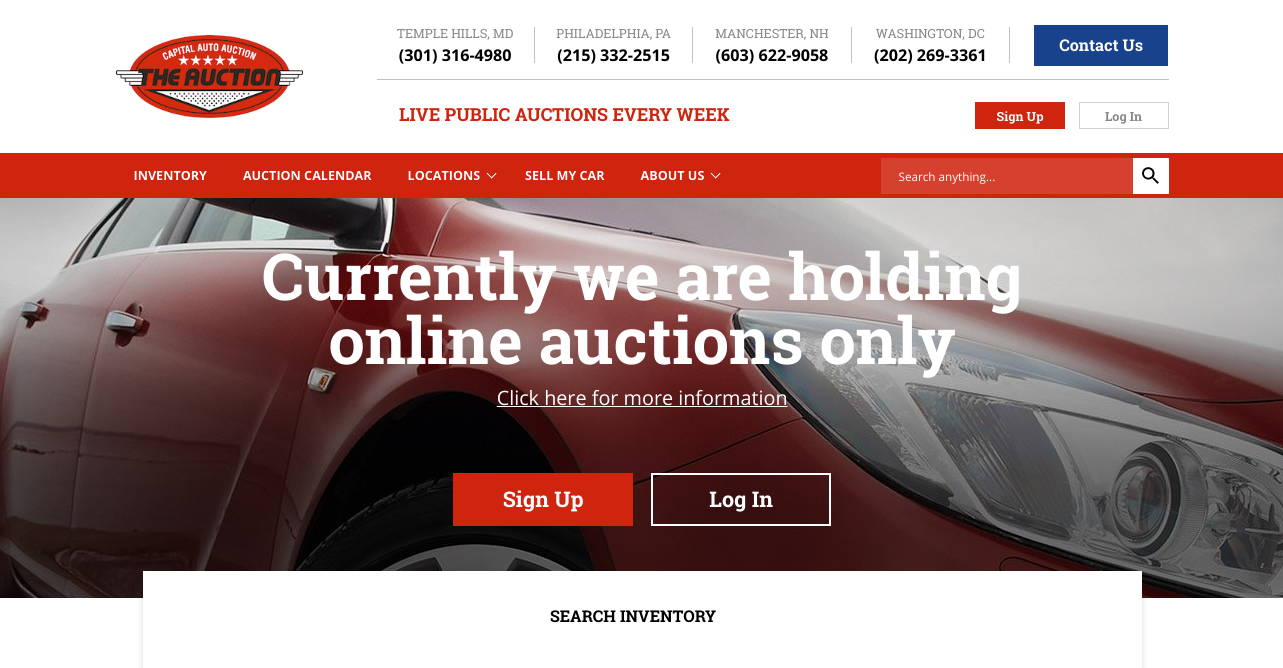 The Capital Auto Auction is a live online car auction company based in Washington, DC. A range of vehicles is available for every need and budget, including family minivans, sports cars, boats, campers, and motorcycles.
It's free to browse Capital Auto Auction if you register. Bidding is charged, however. To participate in the auction, you must have a valid U.S. driver's license and be over 18.
7. IAAI


IAAI is an online car auction run by Insurance Auto Auctions. IAAI, which was founded in 1982, has a long and successful history of auctioning automobiles.
This is another site that sells salvage vehicles, as well as insurance auctions, as the name implies. Total loss, fleet lease, recovered theft, and dealer trade-in vehicles are among the other vehicles they offer.
Another selling point is that you can bid on IAAI even if you don't have a dealer's license. You only have to pay a $200 annual fee to do so. One disadvantage is that you can only bid on auctions open to the general public, which means you may miss out on some high-end vehicles that are only available to licensed dealers.
The pros and cons of online car auctions
Pros
Compared to car dealerships, online car auctions have more cars and prices.
There's a chance you can get a much better deal on your dream car.
You can pick up your car without being pressured by salespeople.
Cons
There's no warranty on the car
You can't inspect the car in person, so you'll have to rely on the information provided
If you buy online, it's hard to verify the VIN.
3 Steps to Buying a Car at an Auction
You can find a better chance of finding the specific vehicle you are looking for at an online auction because there are more sellers and bidders.
Here's what you need to do before you go to an auction if you want to buy a car.
1. Register for the auction
A simple form with your contact info is all it takes to register for an online auction. The auction house will also require you to provide a credit card number if you win a vehicle. The forms aren't difficult but register as soon as possible before the end of the auction.
2. Do your research in advance
It's easy to get carried away at an auction, so know your maximum price before you bid. Even cars go fast, and bidding on them can take less than a minute.
Research the prices of the cars before you attend the auction. If you know which models are scheduled, then use industry guides to find out what each one is worth. Before the auction, you may be able to inspect the vehicle either online or in person.
It is extremely important to keep your research in mind when bidding. If your bid does not win, you will not be able to rebid, but if your bid wins, you will receive the vehicle. There may be hefty penalties if you withdraw from the auction, and the seller may not be able to sell the vehicle even after the auction if a better offer is received.
3. Transport your auction car the right way
The item you purchased at the auction will need to be transported back with you. It is possible that you will bring a friend or hire an auto transport service, but you should take the following into consideration beforehand.
Numbers of cars you buy. Is there a trailer big enough for you to tow the potential car(s) you want? Do you plan on buying one car or more?
Car Types. When you buy a salvage car, you might not be able to drive it until the title is updated. You don't want to put too many miles on a classic car.
Distance. An online auction might not be convenient for you if you don't want to drive far to retrieve your car. The best way to move your car across the country is to hire a professional car transport company, but keep in mind that an enclosed carrier will cost more than $1,200 for a cross-country trip.
Bottom Line
In addition to these 7, there are other online car auction sites that feature major auction houses. Nevertheless, keep in mind that not all of them are safe to use. Ensure that the site you are bidding on is accurate before you bid, as not all are worth the effort.
You should use a site that accepts bids from all customers or work with a third-party middleman to get your bids through the site. The following 7 auto auction sites are among the best on the market, with eBay motors ranking first for consumers and dealers internationally.